The mood of the canal boat trip
darkened when the argument over
who got to steer turned nasty.
The title refers to the second
Lone Wolf
(see also the
TVtropes page
) book,
Fire on the Water
.
All of the Lone Wolf books can be obtained for free from
http://www.projectaon.org/
.
So who is Lord-lieutenant Rhygar and why does he need a magic spear?
Well, if you haven't read the book, here is
the story so far
...
As the Sommerswerd blasts
Darklord Zagarna into oblivion,
a random Giak shouts 'Hi mum!'
You are Lone Wolf, the Last of the Kai Lords and you are fighting some evil empire led by a gang of powerful creatures called the Darklords.
You are trying to get to a city so that you can get an uber magical sword, called the Sommerswerd, that only a Kai Lord can use. It is powerful because it can kill a darklord. You need to kill a darklord because one of them is laying waste to one of your cities.
Ok, got that?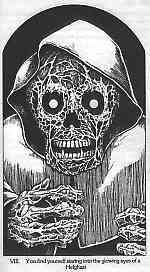 If I looked like that
I'd want to be a
shapeshifter too.
Unfortunately for you, you are being hounded by many monsters including some powerful undead psychic shapeshifters called Helghasts which can only be harmed by magical weapons.
You may or may not find a magic spear on your journey - it is the only weapon that can harm the helghasts before you get to the Sommerswerd.
Eventually, you and your travelling companion, Lord-lieutenant Rhygar reach a network of tunnels where the noble and brave Lord-lieutenant says that he will hold of the helghasts in order to buy you time. His sword is not magical which means that he cannot harm them, but if you have the magic spear, you have the option of giving to him so that he can harm them. My first instinct is to give my brave companion the spear.

A Noodric.
It's Hammerdal time.
However, further on down the tunnel, you may be ambushed by a helghast and if you do not have the magic spear then you are killed. The only way to get through the tunnels if you do not have the magic spear is if you decide to follow a creature called a Noodnic. If you have the animal kinship discipline, you can get on with them and they show you through the tunnels. However, then then steal all of your money, so it's not perfect although it's better than getting killed.

If you do survive and you get to the city of Hammerdal, you are given some bad news. Lord-lieutenant Rhygar was killed.
You get told the same thing whether you gave him the spear or not.

The ironic thing is, we are doing all of this in order to get the Sommerswerd, which is a magical weapon and deals double damage against undead creatures.
Maybe Lord-lieutenant Rhygar's sacrifice wasn't even necessary.
It seems that readers were not very happy about this. The
footnotes
in the updated Project Aon version of the book state:
"Original version: The choices appear to serve no other purpose other than punishing Lone Wolf with certain death for mercifully handing Rhygar the Spear. The fact that this version was revised and the path that Lone Wolf is given in the Legends of Lone Wolf series also both appear to refute the correctness of this version."
However, I like to imagine that if he did have the spear, he would have taken down a few of the undead monsters with him. If he didn't have the spear, I imagine that he would have spent the last few minutes of his life as a terrified moving target that can't fight back.
Giving him the spear still gives me some peace of mind that I have done the right thing, despite the book punishing me for my act.
This gets on to my point that gamebooks can teach us something about ourselves. There are some options in gamebooks that, in terms of the game, are completely pointless.

Maybe it is good to give up items or fight a combat for no reward. It gives you an insight into your own character. Sure, there are ways that gamebooks can reward or punish you for behaviours, but does it give you an insight into your character if you do it for a reward or punishment? It was Dave Morris who gave me that thought in
this interview
where he says:
"I remember talking to Joe Dever and he said he'd included a "moral element" in the latest Lone Wolf book. If you failed to rescue some kids from slavery, two or three paragraphs later you were attacked by an unkillable demon. And I was saying, "That's not morality – that's just economics! Morality is personal. If you're swayed by the awareness of punishment then you can't say it's a moral choice..."
Dave was referring to the
Blood Sword
series where 'good' actions aren't necessarily rewarded and 'bad' actions aren't necessarily punished.
There is a smaller example in Necklace of Skulls, where you can give some children some food, but you get nothing in return.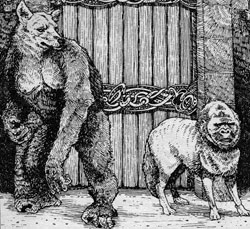 Do you really want these two in your neighbourhood?
If they were, you'll end up like the both of them.
Going a bit ape.

As well as playing a charitable type who gets a good feeling from helping the needy I also used to play a complete psychopath who wanted to take down as many enemies with me as possible.
I figured that even if I failed in my mission, my mass murdering will weaken the enemy a bit. For example, in the Citidel of Chaos, I could attempt to bluff my way past the ape-dog and the dog-ape but then I figured that they would be part of Dire's invasion force and even if I killed him they would still run off and cause trouble, so I made a poor attempt at bluffing and then just attacked them.
After all, if I don't have a levitation spell at the end of the book, I have to go back the way I came. So I'm thinking ahead.
However, some people think that your journey back

would not be too successful

(the link will make sense if you succed at the gamebook).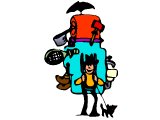 Right, I've got everything I
need to go to the loo.
I would also play some gamebooks as a
kleptomaniac hero
where I would try to get as many items as possible and as much money as possible.
I would even hang on to items even if they only had one use in the book and I would be severely punished for not using them. After all, some of the items sound really cool and I would like to hang on to them.
So there are plenty of choices that we can make in a gamebook that may have no effect on the game or may even punish us but we still make them because we want to role play our character that way or their actions satisfy us more. However, most of our choices are made with the expectation that they will reward us in the end. Ultimately, you will want to get to the most victorious paragraph, but you need to make plenty of other choices to get other rewards as a means to that end. For example, you may need money, better weapons or an ally.
Some authors give the universe of their gamebook a moral code and they do reward you if you follow it or punish you if you don't. Here are some ways that this is done.
Leave him alone.
Reward or punish the hero by breaking the fourth wall.
This is when you perform an action and the author decides to give you some kind of bonus or penalty. In Fighting Fantasy, it usually affects your luck score.
For example, in City of Thieves, you lose 4 luck points if you kill the blacksmith, who was a 'good man'. But you gain 1 luck point if you give a beggar a gold piece.
In some of the earlier books, you could also gain luck in addition to getting some material reward.
This is averted sometimes - the above example from Lone Wolf is one time. There is also an example from Crypt of the Sorcerer where you have to kill a helpful man and take a luck penalty in order to get an item that is vital for your victory.
Have different moralities that the hero can follow
Scorpion Swamp lets you choose whether to serve a good, neutral or evil wizard and complete a quest for them. Different people treat you differently depending on which wizard you work for. This could also be an example of rewarding or punishing the hero within the story as people treat you much better for following the good wizard and they are far more hostile towards you if you follow the evil wizard.
In the Coils of Hate and Down amongst Dead men, certain actions you choose to perform will give you code words to mark what morality you have decided to follow.
In the excellent gamebook
Outsider!
by
Gavin Mitchell
you are an assassin in search for your father. You find three father figures in the book, one is a necromancer (evil), one is a noble (neutral) and one is hero known as Defender (good). You could choose to give up your life as an assassin and follow one of these three or you could carry one to the 'best' ending which involves learning from all three of them for a while and then leaving them.
Have a score that measures morality and state how it can be increased or decreased.
Your going to be cut
up about annoying
this guy.
This is a subset of the above section. However, it will seem less arbitrary, you will have been given some guidance on what actions will increase or decrease the score and the score will have an effect on the game in its own right rather than affecting other scores (i.e. in most Fighting Fantasy games where you get a 'moral' bonus or penalty, you change your luck score which has applications beyond the moral).
This makes morality more integral to the game as it has its own score. It also gives a means to reward or punish players for their actions and lets players know that they will be rewarded or punished for 'moral' or 'immoral' acts.
It also gives the author a chance to give examples of how to increase or decrease the score or at least gives some fairly strong connotations. For example, Sword of the Samurai does not give an in depth explanation of what is honourable or what is not, but when I was presented with choices in the book, I could point out some choices that would be honourable or not. It also gave me a bit of education into what samurai found honourable (for example losing your weapon is a big no no).
They're really friends.
Reward or punish the hero within the story.
This is when you perform an action and if it agrees with the morality of the book, your life becomes a lot easier and if it disagrees then your life becomes a lot harder. However, this is not because the author says so, but because the characters in the book treat you more favourably or following the book's morality just happens to be best for your survival anyway.
In Scorpion Swamp, serving Selator, the good wizard makes your life easy as most of the intelligent denizens of the swamp either help you or are indifferent to you. If you follow Grimslade, the evil wizard, some of those denizens attack you on sight.
In the Choose Your Own Adventure book, the Race Forever, you can only win one of the races by turning down a bribe and then telling the authorities about it. If you accept the bribe, you get shot and if you don't tell the authorities, you don't win the race.
Of course, the author may play on this by making it a trap. After all, heroes would always help the helpless won't they? One example of this is Portal of Evil. However, the people who trap you aren't evil and it helps in the long run.
Offer the hero a choice to do something that fits the morality of the book, but do not reward or punish them at all.
You can give money to the beggars or try to save someone, but the only reward is your satisfaction. Dave Morris does this a lot. For example, you can give away food in Necklace of Skulls for no gain. You can also do 'bad' things in the Blood Sword series and not be punished or do 'good' things and not be rewarded. When Dave was asked about this in an
interview
, this was his answer:
I remember talking to Joe Dever and he said he'd
included a "moral element" in the latest Lone Wolf
book. If you failed to rescue some kids from slavery,
two or three paragraphs later you were attacked by an
unkillable demon. And I was saying, "That's not
morality – that's just economics! Morality is
personal. If you're swayed by the awareness of
punishment then you can't say it's a moral choice."
To kill the assassin, attack Parsion.
For an easy fight, attack Halvorc.
Although Joe Dever didn't do that in the above quote, he does it a few times in Fire on the Water. For example, you can give a beggar some money and all that happens is that you get mobbed.
There is a situation where you are travelling with five people and one of them is trying to kill you. It does not matter if you choose the assassin or not in game terms. You could get an easier fight with the merchant with the same consequences.
Moral messages in gamebooks
A lesson in empathy.
There are some gamebooks that contain moral messages woven within the story. For example, Coils of Hate has a message about persecution. I've read reviews about it being rather unsubtle about its message (for example, your people are called the Judians). Also the fact that in this city where persecution is rife, an embodiment of hate arises and threatens to absorb everyone who is hateful (as you can avoid being absorbed if you perform good acts) is a metaphor for the danger of widespread persecution and tyranny.
Considering that, at the time, gamebooks' biggest consumers were young boys, any message had to be unsubtle as it would have been missed. Even with all its unsubtlety, when I read Coils of Hate at the age of ten, I was far more interested in how my character with swordplay, spells, charms and cunning would do. And as a ten year old boy, I think I knew of the persecution of the Jews in Nazi Germany but I had absolutely no way of knowing what it would have been like to have been persecuted. Coils of hate gave a snapshot into the life of someone who had to suffer persecution. In that respect, it was a lesson in empathy for me.
Leave them trees alone.
Of course, I never thought about it at the time, but almost everything we learn is not immediately applicable. A good lesson lies latent in our brains, waiting for such time as it will come in handy. And if that lesson is for young boys then it has to be unsubtle.
Green Blood is another Virtual Reality Gamebook, this time about saving the environment. I first read this one in my twenties and thankfully, I caught the message this time. The same things I have said apply to Green Blood - the message may be unsubtle but it was for younger readers. There were also messags about coming together in order to face a common enemy (As you had to convince the elves and a dragon to help you save the forest). If these messages can be woven into gamebooks, then why not? Every story has a lesson.
Mark had never seen
a production of Hamlet
quite like it.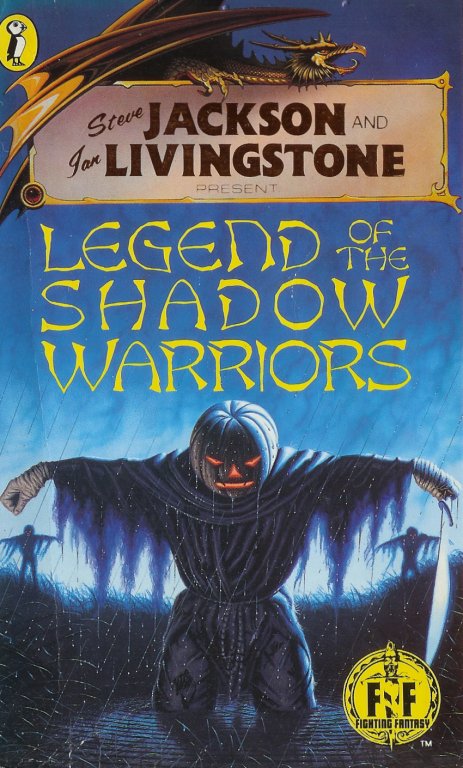 Jonny really threw
himself into his
Halloween costume.
Fighting Fantasy books also have moral messages. Stephen Hand's Legend of the Shadow Warriors requires you to beat Death, but you cannot kill him. Instead, you must use The Spear of Life to give him life and therefore forgiving him for his actions.
Moonrunner, also written by Hand, has you bring a war criminal to trial and justice rather than have you kill him. These ideas are above the 'kill the sorcerer steal his treasure' ideas in early Fighting Fantasy books.
Gives a whole new meaning to
cracking up.
Stephen Hand also wrote Dead of Night, where you have to kill Myurr, a demon prince at the end of the book. I don't think there is a moral message, but we do learn that demons and other powerful entities usually require some kind of artefact to stop them being sucked back into their plane. This also applies in
other gamebooks
.
Since gamebooks are about choices, they can also be about morality. Sometimes, the choice is about the reward and according to some, that means that it is no longer about morality. However, sometimes, making the 'moral' choice has no effect or may be detrimental, but if you still want to do it, then that shows a good sense of morailty.