I will be reviewing
The War Torn Kingdom
in my next post. I have already posted on the concept of Fabled lands and the game system. In this post, I will highlight just what an addicitive gamebook range it is and tell you the story of my first play through.
There are some infinite loops but if you try to take
advantage of them then you will miss the interesting stuff
and the game will just drag on (get it?)
When I started, I went through a portal to come to a stinking heap known as Yellowport. I had a bare minimum of equipment and when I went to the market, a lot of the stuff was way above my price range.
However, I found 15 shards (the local currency, which are not actually shards) after I killed a thug who attacked me while I was exploring the rough area of the city.
It was an easy fight and I realised that if I did the same again, I could easily kill another thug and get another 15 shards.
However, I felt that this would not be within the spirit of the book. I should be exploring, not continuously killing some random mook for some paltry sum groundhog style day.
I then got kidnapped by some cannibals. I fell for the trick of answering a call for help and before I could do anything, I had been knocked out. I woke up, almost ready to join these cannibals as dinner, but managed to annoy them so much by shouting the name of their god that I escaped their bonds and fought my way to freedom.
I said earlier that I did not think it was right to continuously kill some mook just to get some paltry sum. However, when I bought a ship and a lot of cargo, which I later sold for hundreds of shards, I realised that some repetative things were OK.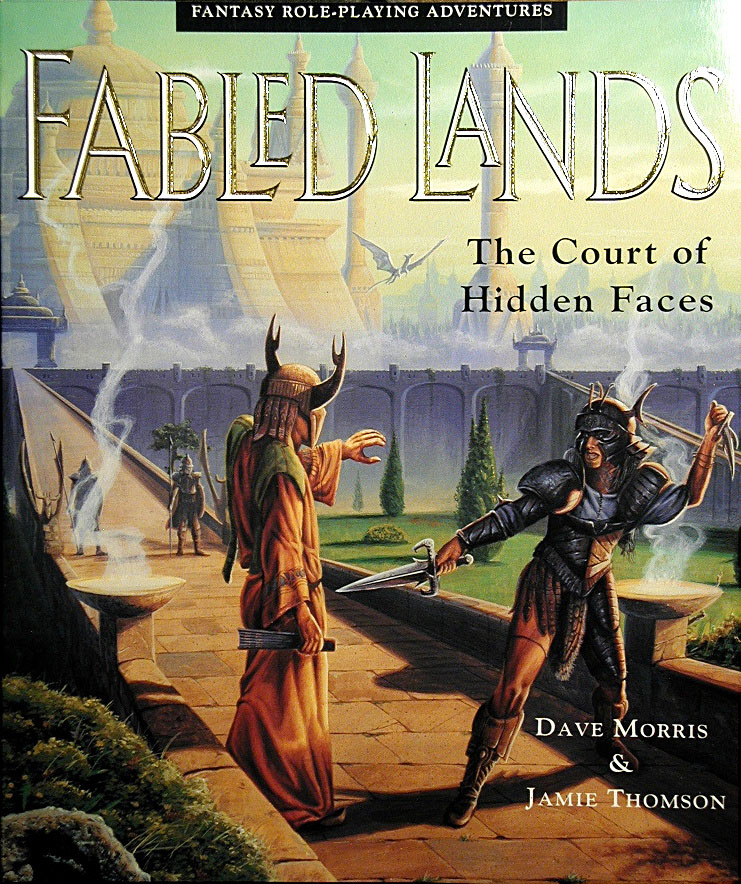 That hidden face dude was
lucky that his book hasn't
been republished because
he definatley would have
stuck that sword in him.
For maximum experience,
kill lots of these.
As soon as the rewards were big enough, the power gamer in me took over like some evil body snatching alien. Gone was the drive to enjoy the atmosphere and explore the lands - I wanted my stats to be as good as possible. I wanted thousands of shards.
When I was attacked by pirates and managed to win an outright victory against them (which I could do quite easily as a warrior), I was given a chance to level up. That was it. I became the scourge of pirates, buying goods in Sokara to sell in Metriciens and hoping that pirates would attack me so that I could loot their treasure, get more cargo and level up, making it easier for me to beat the pirates next time.
Soon, I was a level 10 warrior. I couldn't stop - I went all over the place, slaying beasts and men, finding ways to increase my stats. This wasn't
min maxing
. This was just maxing. After I repeated myself several times so that I could max out my stats I travelled around all four books causing havoc usually just wading in and slaying all my foes.
Republish, dammit!
I quickly got addicted to Fabled Lands. I discovered the frustration I felt when an option told me to go to another book if I wanted to do something. Except it was a book I didn't have or even worse, it was a book that hasn't been published yet.
Then I had a realisation. I had gorged myself on Fabled Lands and now I was satiated. I wanted to go back to what I was originally doing - wandering around, exploring the terrain and talking to its inhabitants. I went back to the beginning, started with a new character and promised I'd just stick to the War Torn Kingdom and I'd explore it in the way the authors intended...
What did my first play through of Fabled Lands teach me?
A big number on a piece of
paper is still just a number
on a piece of paper.
My first idea was to get all the best items and make my stats as great as possible. Most of the time, I wouldn't read a paragraph in detail, but just skim it for any adjustments that I needed to make to my adventure sheet. Then, when it happened, I felt that I had missed out.
Looking at some of the first gamebooks I wrote, I realise that this was also the way I approached writing gamebooks. I would really neglect the description, storyline and three dimensional characters and put all of my efforts into making a balanced and fair game system where the hero could get plenty of rewards. These books were also missing out on a lot.
There is more to a gamebook than the system. The system is only there to support the narrative. If you make it all about the system, it just becomes another load of numbers, which, even if you get a big load of numbers, is still unsatisfying.
I like setting challenges for myself in gamebooks by playing with the rules (for example, you can successfully complete
Necklace of Skulls
with no skills).
Points based character creation
For Fabled Lands, I thought of a customisation process involving points and you can give yourself a number of points based on how difficult you want the book to be.
I started this system by taking an average of the sums of the abilities of the starting characters.
The sums of the ability points are:
Priest: 21, Mage: 19, Rogue: 22, Troubador: 22, Warrior: 20, Wayfarer: 22.
So the mean number of ability points that the characters have is (21 + 19 + 22 + 22 + 20+ 22)/6 = 21.
So a starting character has 21 points to distribute amongst their abilities.
However, since your ability score cannot go below 1, 6 of them have been distributed already to each score. So a starting character should have 15 points to distribute amongst their abilities and a score of 1 in each ability.
There is also the matter of which profession to pick. Instead of picking one profession to start with, I gave a profession a value of five points and added five to the starting number of points a character has. This means that you can start with no profession and higher ability scores or more than one profession, in order to take advantage of the profession based quests and the other perks that different professions have.
That gives a starting score of 20 with starting ability scores as 1 for each score. 1 point increases an ability by 1 and getting a profession costs 5 points.

In the name of realism I may have a two profession limit (also, if you spend too man points on your professions, then your abilities will be too low to let you survive).

There is also a maximum limit for an ability which is 5 + the book number you are starting at.
However, you can adjust the difficulty by giving yourself more of fewer points.
You can substitute going up in rank with gaining a profession
This allows you to take advantage of the other parts of the book open to other professions. You may or may nor want to put a limit on the number of professions you can have as in book one, getting a profession means that you have access to another quest which allows you to go up in rank again.
Maybe you could swap two ranks for a profession, but that will mean that you would have to remember how much your stamina went up by when you gained the last two ranks.
Your stamina goes up by a fixed amount when you go up in rank
I hate to roll a 1 when I want to see how many points my stamina can go up by. It's a bit like getting a big, nicely wrapped box at Christmas and opening it to find something rubbish.
I would say that the default number should be 3 as it is half of six but you can pick any number you like to make it easier/harder or maybe base it on profession e.g warriors and wayfarers gain 4 stamina points per rank, rogues and troubadours gain 3 stamina points per rank and mages and priests gain 2 stamina points per rank.
You can't use the map - you have to make your own
This would add an extra dimension of challenge and provide more of an opportunity for explorers and people who like drawing maps.
Being unarmed reduces your combat score by 1
I noticed that having an ordinary weapon is no different to being unarmed, except the weapon takes up an item slot. So this rule will make sure that you do carry a weapon around and don't just sell it for 40 shards.


Start with no possessions


This would not be a major setback, but it is a minor extra challenge. I think the biggest setback would be having no money.
Inventory/adventure sheet adjustments
It can hold tons of grain but
it can't hold some potions?
You can carry more of fewer items or you can restrict yourself to the number of blessings you can have or the number of ability boosting items you can have. Maybe you can limit the amount of money that you can carry around. For example, you can carry 250 shards and every 250 shards after than counts as an item.
You can store items and money in ships. This is actually quite a strong benefit as secure caches that won't get burgled or destroyed are few and far between. However, it also means that your caches may sink or get lost.
This only applies in later books where some opponents have high defence scores. There are several ways around it, none of them great as it means that combat is more deadly for you (unless you reduce your opponents' defences and not yours).
Removing the effects of rank on defence would disadvantage the player. The only way to work out how to reduce opponents' defences by a certain amount is by reducing them by the number of the book. However, most of the time, the player will have a higher rank than the number of the book.
Maybe defence could be based on half the combatant's combat score round down (so you can reduce opponents' defences by half their combat score rounded up). This is probably the easiest way as you have know way of knowing whether your opponents are wearing armour and what their ranks are.
Also this means that combatants will have a higher combat/lower defence combo, making the combat faster but more deadly.